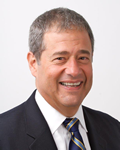 Wade Saadi
Wade collects 19th and 20th century United States stamps and postal history and is both an accomplished exhibitor and speaker.
He has served as President of several philatelic organizations including The Collectors Club, The American Philatelic Society, The United States Philatelic Classics Society, and World Stamp Show-NY 2016. He served as co-chair of the Smithsonian's National Postal Museum, and currently serves on the Board of the Club de Monte Carlo.
He is the recipient of a number of philatelic awards including the Collectors Club's Lichtenstein Medal, the APS' Luff Award, the Classic Society's Distinguished Philatelist Award, and the PF's Neinken Medal. In addition, he is a signer of The Roll of Distinguished Philatelists awarded by the Philatelic Congress of Great Britain.
Wade's addition to the PF's Board comes at time of great challenge as all of us continue to face Covid-19 on a daily basis. We look to the success of the vaccine to end the scourge of this horrible disease. We are fortunate to have our wonderful hobby to turn to during these difficult times for both pleasure and peace of mind. Throughout, the PF has continued to issue its Certificates of Authenticity, providing the collecting community with what are recognized as the "Gold Standard" of opinions.
Wade has other hobbies including coin collecting, photography, amateur racing, cooking and travel. He lives in New York City with his wife Gail; their son, daughter-in-law and two grandchildren complete their family circle.