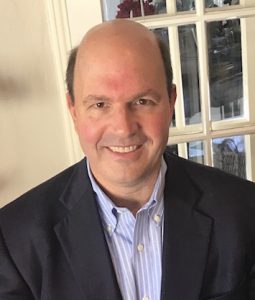 Harry A. Olivar, Jr.
Harry A. Olivar, Jr. was introduced to stamp collecting at age 7, when he received a small worldwide album for Christmas. When he was 8 years old, his father pulled his own stamp collection out of storage in his grandparents' garage, and piles of used stamps soon overwhelmed the living room and other areas of the house. He has fond memories of going through stamp approval packets from H.E. Harris & Co., Jamestown Stamp Co., and the like with his father. Harry, an Eagle Scout, earned the Stamp Collecting Merit Badge in 1978, with his father as counselor. Harry's grandfather often took Harry to Superior Stamp & Coin, where his grandfather was well known. He gave Harry a mint set of Graf Zeppelin stamps as a gift when he graduated from college. Harry began assembling a serious stamp collection about 15 years ago, focusing on U.S. mint and used, with recent emphasis on PF-graded items and on Officials and Newspaper stamps.
Harry is a graduate of Yale University, where he was Captain of the 1985 Yale Heavyweight Crew, and of Harvard Law School, where he served as an Executive Editor of the Harvard Law Review. Following his graduation from law school Harry served as a law clerk on the United States Court of Appeals for the Ninth Circuit in Los Angeles. After his clerkship, Harry joined Sullivan & Cromwell in New York as a litigation associate. In 2000 he joined Quinn Emanuel Urquhart & Sullivan LLP, in Los Angeles as a litigation partner; where he currently serves as co-chair of the firm's national securities practice, specializing in financial litigation.
Harry lives with his wife Leigh and a blended family of five sons in the Pasadena area.