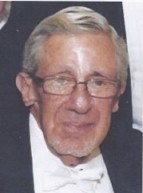 George J. Kramer
George attended the University of Pennsylvania, Wharton School and graduated in 1958. Since, he has been a successful builder of homes and apartments for over 40 years.
He is widely known in the philatelic world, at both national and international levels. He was the Chairman of the Philatelic Foundation from 2005-2011. Over the years, he has held numerous posts and positions in the American Philatelic Society and has been a 5-time U.S. Commissioner to International stamp shows assisting exhibitors from the United States. George is a well-known author of "United States Telegraph Stamps and Franks" (1992) and co-author, along with Richard C. Frajola and Steven C. Walske, of "The Pony Express: a Postal History" (2005).
His accolades include signing the Role of Distinguished Philatelists (2005) and the Luff Award (2013) for Exceptional Contributions to Philately. His collecting interests have garnered international attention having won the Grand Prix National (Pacific 1997), Grand Prix (Australia 2005) and Grand Prix d'honeur (Brazil 2013) for his U.S. Domestic Mails, 1776-1869. He is also a 9-time Champion of Champions participant, with 6 different collections, having won this prestigious title on three occasions.